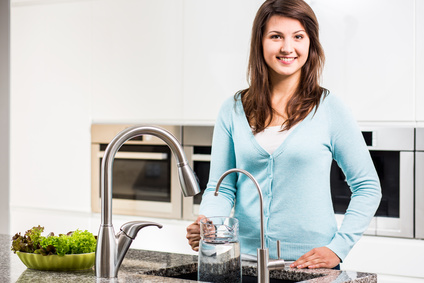 Are you ready for the New Year? Have you jumped on the "going to the gym" and "losing weight" wagon? Do you plan to improve your lifestyle and your perspective on life? If so, start with your water.
Water is the foundation for life and good health, so it's important to know what's going on with your water source. If you want to start your year in a healthier way (and save money, too), here are some New Year's resolutions from a Port Huron well driller.
1. Look at the Color of Your Water
We expect our water to be crystal clear, but there are several reasons why it may not be as clear as you would like. If you notice a yellow, green, brown, or any other unusual tint in your water, it's a sign that there are high levels of metals in your water.
You can pour water into a white bucket or bowl and leave it out for a day to check for discoloration yourself. If there is no color, that's a good sign that your water is clean. If you are still unsure about the color of your water, be sure to consult with a Port Huron well driller from Ries Well Drilling for more information.
2. Check the Taste of Your Water
Many don't believe there is a distinct taste to water, but there definitely is. Tap water and filtered water taste extraordinarily different from one another.
Tap water often has more of a metallic taste due to the chemicals and metals that aren't filtered out. Adding a filter or buying filtered water can make a difference in your lifestyle, but you'll benefit more if you switch over to a personal water well. A Port Huron well drilling company can take care of that for you promptly, and in no time you'll be left with your own virtually endless source of clean, pleasant-tasting water.
3. Smell Your Water
It may be an odd resolution, but water can have a smell. The bad news is that it shouldn't. Water can smell rotten sometimes. This can be due to the plumbing or the materials in the water.
A filter and good plumbing make all the difference to the quality of your water. It's another thing that can be taken care of if you have a local well drilling company install a personal water well for your home. The filter installed with the well can prevent odd smells from arising in your water.
4. Make Sure You're Happy with Your Water Supply
If you've noticed any issues at all with your water supply, you may need to have it checked by a professional well driller. Sometimes, the water we get from public utility services isn't as great as we expect it to be. Getting water from your own personal water well gives you control over the quality of your water.
With your own well, the water is tested and maintenance checks are done thoroughly. Filters and water pressure devices are also present to make sure the water you drink is clean, safe, and flowing efficiently.
Are you ready to make the switch? 2017 should be started out with clean, fresh water so you and your household can focus on other resolutions and goals.
Looking for a Port Huron Well Driller ?
Contact Ries Well Drilling Inc. today about your personal water well installation. Ries Well Drilling is headquartered in Washington, services Macomb, St. Clair, Oakland, and Lapeer Counties.
Call Ries Well Drilling: 586-784-9516
Do you live in Imlay City and in need of a reputable well drilling company? Be sure to check out our article: Is The Imlay City Well Drilling Company You're Working with Reliable?