Well Water Systems Explained by a Professional Well Driller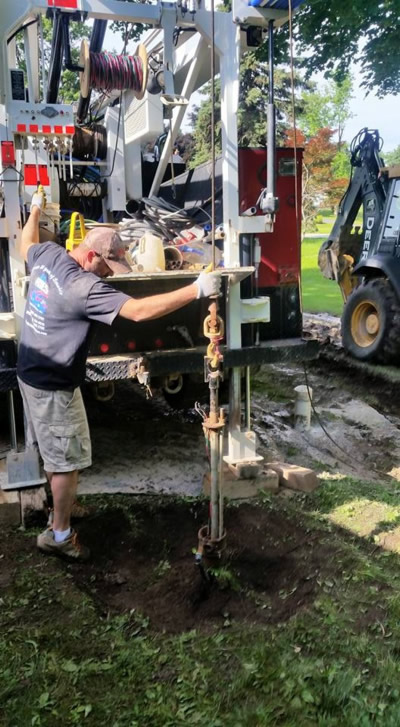 If you've ever wanted a well water system in your backyard, but haven't been sure how affordable it is, you are not alone. Each one of us has monthly expenses that usually includes a high water bill. Don't you just wish that you didn't have to deal with restrictions or limits to your water supply? Instead, you might dream of having your own free source of natural, fresh, clean water right at home.
All About Water Wells
The good news is that having your own well is possible, without having to spend tons of money. With a professional water well drilling company like Ries Well Drilling, you can have the right equipment on hand and professionals with the skills necessary to set your family up with clean, pristine water.
The Right Water Well Drilling Equipment
The reason you want to work with professionals is that professionals have the right equipment to drill well water systems. When you work with a Michigan well drilling company, they will use the best machinery for the job that is portable, lightweight, and easily transported into your backyard. For larger properties they can bring a heavy duty drilling rig to your site, to help give you the water supply you want.
Water Well Drilling Techniques
There are many different techniques when it comes to drilling a water well. The most common ones are cable water well drilling and rotary water well drilling.
Cable Water Well Drilling
Cable water well drilling uses a legitimate cable, hence the name. It might also use pounder rigs, which will hammer out a hole by continually dropping a tool string on an earth-cutting bit. The bit usually weighs fifteen hundred pounds.
Any driller using such a device will stop it every few feet to clean out the bottom of the newly constructed hole with water.
Cable rigs are not the fastest at drilling well water systems because they have to pound and bail repeatedly. This process can take up to two weeks to completely drill a household well.
Rotary Water Well Drilling
Rotary water well drilling uses a high powered engine that screws on a cutting bit to cut into the earth. This is done while water is flushed down through the hollow parts of the drilling pipes, known as the drill stem. The water goes through the stem and out the holes located in the bit, a process which washes the cuttings away to clean out the new hole. This process allows any of the suspended particles to settle, after which the mud pump gets a turn. The mud pump is a second engine which cycles the water to the bottom of the well.
Rotary water well drilling is a faster option compared to cable drilling, though it is more expensive. Both options work well to dig out the perfect home well, and if you are on a tight budget, you can still get the job done with the cable rigs.
In any case, talk to a professional well driller to figure out which method works best for you.
Well Water Systems Explained by a Professional Water Well Driller
Want to learn more about how water well drilling services work? You can get started with a water well on your property by giving Ries Well Drilling a call today at 586-784-9516 . They will help you set up the irrigation system you need.
Ries Well Drilling provides the following well water services: