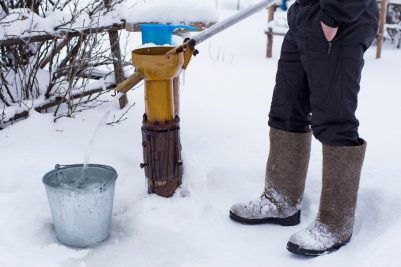 Fall is officially here in Michigan and temperatures are starting to fall which means winter is right around the corner. If you are new property owner with a water well, you may be wondering what extra steps you should do to your well to properly winterize it and prepare it for Michigan's harsh winter.
We have great news for you! The process of winterizing your well is straightforward. Ries Well Drilling has been helping homeowners through Oakland, Macomb, St. Clair, and Lapeer counties since 1983. Here is everything you need to know to ensure your well is protected from Michigan's upcoming winter.
Why Should You Consider Winterizing Your Water Well?
When we recommend winterizing your water well, we are not talking about the well itself. We are specifically recommending you winterize the components of your water well such as the well pump and pipes. If water inside these components freeze it could result in the frozen water expanding to the point that it damages the components. If this happens, you could be left with no available water supply to your home.
If you are a Florida snowbird you want to winterize before closing your Michigan home for the winter season. Otherwise, you may find your well pump is no longer working due to the harsh Michigan winter. Even for a year-round home, your well is susceptible to freezing. It only takes a day or two for your well pump to freeze when temperatures fall below freezing unless it's properly winterized.
What Should You Do To the Well Pump?
Water well pumps submerged under water at the bottom of your well are unlikely to freeze. But, if your water well is fitted with a jet pump that is above the frost line, you'll need to take some extra steps to prevent it from freezing. We recommend you make sure your water pump is located in an area of your property that is protected from drafts improperly sealed doors and windows. Ideally, the pump should be in a heated location.
What Should You Do to the Water Well Pipes?
If you have above ground pipes, they should be insulated before the temperatures drop below freezing – fall is a great time to do this! We recommend using foam sleeves or even heat tape along the piping.
What Steps Should you take to Winterize When You Travel?
If you are traveling south for the winter, we recommend the following steps to help protect your water well from freezing
Turn off the water supply to your home
Turn of the breaker to your water well pump
Open the faucet on the water well pump to drain any water remaining in the pump
Open all faucets inside your house to remove any water from the pipes
Disconnect the pipes and wiring from the pump to remove water
Don't let anyone using the pump once it has been winterized
Use a compressor to blow out any remaining water
Keep in mind, these tips may not be applicable or specific to your type of well pump and may require you to follow another procedure. We recommend you consult the manufacturer of your water well pump for the specific steps in winterizing your water well pump.
What Do You Do If the Well Pump or Pipes Do Freeze?
Even if you take the proper steps to winterizing your water well, it could still freeze. If this happens, we recommend you turn on a faucet to relieve pressure from your system. If you don't have heat tape on your pipes, apply some and/or use a hair dryer to thaw the pipes. Once you start to see water running through your system, you can remove the heat source.
If your pipes remain frozen, you may need to call an emergency water well service to look for the and repair any cracks in the pipe for a damaged water well pump. Even if your pipes were frozen and you were able to thaw them out, we still would recommend that you contact a water well company to come inspect your system to ensure it is working properly.
Should You Get a Pre-Winter Well Inspection and Maintenance?
Ideally, you should get a pre-winter inspection from a licensed and insured water well service company servicing your area before the ground freezes and snow falls. Fall is a perfect time to have this done so the water well contractors can find potential problems with your water well and fix them before the coldest months come and damage becomes more severe.
Why Call Ries Well Drilling?
Ries Well Drilling is a fully licensed and insured well drilling company. We are top-rated members of the Better Business Bureau, National Groundwater Association, and Michigan Ground Water Association. Always expect quality service and superior workmanship.
If you are searching for a qualified water well maintenance contractor, reach out to Ries Well Drilling today. We'll keep your residential water well pump and pipes in great working condition for the winter season. Contact us today at 586-784-9516.
We Gladly Accept Insurance Work!