3 Signs That Your Water Well May Need Repairs in St. Clair, Michigan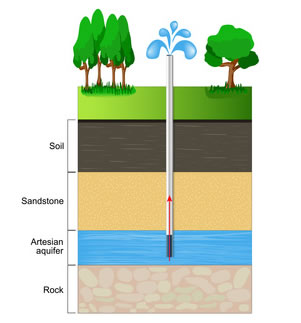 Once you install a water well, you'll never want to go back to public water. With a water well, you'll always have water available to you, all year round! It's clean, fresh, and it practically pays for itself because of all the money you save from having no water bills.
To make sure that your well keeps working at its best for years to come, you need good maintenance practices. You shouldn't be afraid to take action if you think the water well may need to be looked at. Here are a few things to watch out for that may signal your water well needs a repair from a professional water well company servicing the St. Clair, MI area.
You Can Hear Weird Noises
Noises, creaks, and other sounds are never a good sign. These can indicate that something is wrong with your system. It might be as simple as a rusty old part, or there could be some deep rooted problems.
For simple problems, applying a little machine oil can lubricate the parts and solve the friction problem which can stop the parts in the pump from rubbing against each other. But for problems that are much severe, it's always a good idea to call experienced water well driller service St. Clair County, MI and run some tests.
A common source of such issues could be a mechanical problem with the pump. After all, it's one of the few moving parts of a water well system. If it's having issues, it may be having difficulty pumping the water from the aquifer underground. It's best to address the problem ASAP so you can continue to enjoy an uninterrupted water supply.
You Notice an Increase in Your Electricity Bills
If there's any problem in the system, it will have to work harder to get water to your home. That means it's operating at lower efficiency and consuming more energy than it should.
This can be a result of regular wear and tear, or even blockage due to sand, silt or other particles built up over the years. There may also be leaks that have gone unnoticed, allowing less water to travel to your home. Since the pump has to work harder, it uses more power and that is reflected in your electric bill.
Not Enough Water is Coming Out
If you notice that, when you turn on the tap, less water comes out than normal, it could be a sign of pressure problems. This means that the pump is not pushing the water correctly which can be caused by several reasons. If left alone, it can even cause your system to break down, leaving you with no water for your household.
For More Information on Well Drilling Services in St. Clair, Michigan
If you notice any of these sign, the best course of action is to have a professional well driller inspect your system right away to address any issues. As the water well installation and maintenance experts servicing St. Clair County, Michigan, Ries Well Drilling can get your water well back to normal and working efficiently in no time. Give us a call today at 586-784-9516 to speak to one of our water well drilling experts and schedule a visit to your property in St. Clair, Michigan.
For Additional Well Drilling Service Areas: