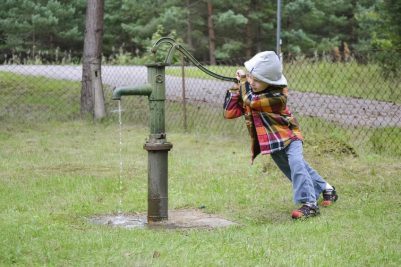 The popularity of water wells has increased considerably over the past few years and there are several reasons for it. To start with, water wells provide fresh and clean water. Second, since water wells are located within an individual's home, one can make sure the well is clean at all times. Lastly, when you have your water well, you are not constantly worried about pressure changes in the water supply.
Water wells make a lot of sense for people who stay away from state water lines and do not have easy access to clean and safe drinking water. If you are planning to get a water well in your home, you will first have to hire a water well contractor. Metamora, MI, homeowners who have tried to find good water well-digging contractors will tell you finding a decent one is no easy task. In this article, we tell you things to look out for while hiring water well digging expertS in Metamora, MI.
Ask for License and Certificate
The first thing you must ask your chosen water well expert or company is whether or not they come with a license. Licensed workers and companies understand how a job must be done. Therefore, they take proper care to make sure they are not harming the environment as well as your property while doing their job. Similarly, insured companies usually hire water well digging experts that come with years of experience.
Finally, always ask the company for their license. Why? Water well digging is no easy task-it requires skill and precision. Only people who understand the nitty-gritty of the job can do it well. So, hire people or companies who are certified, understand the task well, and will do the job properly.
Always Check Your Chosen Company's Portfolio
Before hiring a company, ask them to show you their portfolio. Their portfolio will give you an idea of how well they have done their past jobs and whether or not you can trust them to do a good job. Most good water well-digging companies in Metamora, MI, publish their portfolio on the website. All you need to do is visit their website and check their portfolio properly. Sign any agreement only after you are completely satisfied.
Search for the Reviews Page
Most good Metamora, MI, water well-digging companies maintain a website. If you are interested in hiring a specific company, go to their website and check for their reviews page. The reviews page will give you an idea of whether or not you can trust the company as this page clearly shows whether or not a company has been able to create happy customers or not. Further, by looking at the reviews page, one can also understand whether or not a company follows up with past clients.
However, know that not every review can be trusted. Many water well-digging companies in Metamora, MI, also pay to get fake reviews. Therefore, trust a review only when it has the name and address of the client.
Final Thoughts
The above three tips will certainly help you find the right water well-digging expert in Metamora, MI. However, there are a few more questions that you can ask to make sure you are hiring the right company. Ask questions, such as what if your property gets damaged during the water well-digging process? Will you get paid for the damages? Does your chosen company provide a warranty or follow up regularly after the job is complete? What kind of tools does the company use? These questions will help you find the best water well-digging experts in Metamora, MI.
Give Ries Well Drilling Inc a call to answer any questions you may have fixing your water well water. We can be reached at (586) 784-9516!
We provide Water Well Drilling Services in the following Michigan Counties: