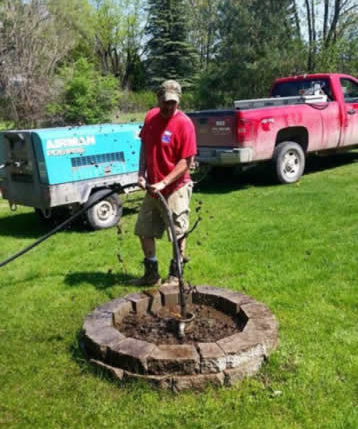 Taking an interest in your own water supply is a great first step towards drinking fresh, clean water. More Michigan homeowners should look into having their own personal water well. That way they'll know exactly what's in their water and who is using it. If you're ready to get started, there are a few questions you need to ask the professional well drilling companies. This is to make sure they know how to give you clean water. Not only that, but they must also be willing to make sure your water well system always stays functional.
Here are six questions you should ask a Bruce Twp. water well driller:
1. "What is Your Experience in Well Drilling?"
Checking out a well drilling company's credibility and reputation should be number one. Reputation ensures that their customer service skills are satisfactory. They should keep you in the loop as they work on installing your water well system. If they have a series of positive testimonials backing them up, that's a good sign.
2. "Do You Have a License?"
Credibility is just one thing to make sure of when you're paying for professional work. You should also check if they have the proper license. As professionals, they need to be legally allowed to drill a hole into your property.
3. "What Equipment Will You Be Using?"
Discuss their work history and equipment use. Listen in on how they talk about their work, and if their equipment is up to date or in shape. Having the right tools for the job is essential in this type of work.
4. "What Type of Well Do You Recommend for My Household?"
Asking this question falls in line with their credibility. Let them know about your water needs and the size of your home. A professional well driller should explain they type of system they will install and how they came to that decision. Since water is a necessity, you want to make sure the well you're given is dependable. Your well driller should also discuss the quality of the water and how they'll make sure the water you're receiving is safe.
5. "How Much Will It Cost?"
Another important question is about the expense. The cost will depend on the water-related needs of the household, but make sure you let them know about your budget. Remember, once you make this investment, you'll bid those water bills goodbye.
6. "Where Will the Well Be Placed?"
Finally, there's the matter of where the well will actually be located. Professional well drillers have to be considerate of the guidelines according to Michigan state law. They also need to make sure the well is an appropriate distance from your home.
Need to Hire a Bruce Twp Water Well Driller?
Keep these questions in mind before talking to anyone about getting your own private water source. When you're ready, get in touch with Ries Well Drilling Inc.  We provide water well drilling services in Bruce Twp and throughout Southeast Michigan.
Call Ries Well Drilling: 586-784-9516