How Modern Technology Makes Having Your Own Water Well Possible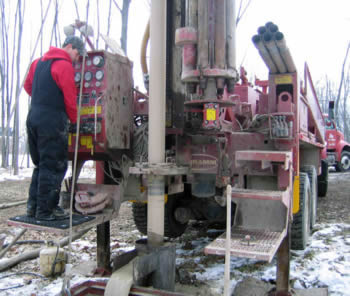 Having access to fresh water is a necessity. Wells gave us access to that water for centuries. In the past, people would simply dig until they found water. Today, we have refined well drilling equipment that helps us dig faster and safer, just like how oil drilling is done. We've also moved on from the old rope and bucket method to get the water out of the well. Now we can use an electric pump that sends the water directly to our home.
The evolution of well drilling equipment is a significant technological progression that should be appreciated. Here is a brief background on the equipment of well drilling.
Water Well Drilling History
In the past, shovels and picks were used to dig deep. With the technology that we have today, it's hard to imagine digging that way and dealing with how long it takes. The older wells that still exist today were done in that fashion. After digging, the well was surrounded by stone walls for the safety of those who would retrieve the water with a bucket, rope, and pulley. Today, that seems like the most inconvenient way just to get a gallon of water.
Why Water Wells Are Still Used Today
Now that we have more advanced machinery for digging, it's easier to get a valuable and personal source of water. This way, homeowners know what's in their water and who's using it. Having a personal well is like having a secure vault of clean water.
Although municipal water systems are the most common way for people to get their water, you don't have personal control over it. Water can be contaminated by metals from faulty pipes or the environment. Even chemicals from other sources can pollute the water without your knowledge. This is why we're grateful that wells can still be used today. It's a source that you can check and maintain yourself, and you know exactly what's in the water.
How Technology Has Helped Us Improve The Water Well System
Today, we have water well drilling machines and functional pipe systems to easily transport clean water.
Well drilling machines allows us to quickly reach the water source under the ground. Depending on the type of well, there are a variety of drills that may be used. Since digging by hand is no longer necessary, residents in rural and even urban areas can have their own water source. There's no longer any need to depend on municipal sources alone.
After the water is reached, it still isn't 100% clean. To get it clean, we have another technological solution: filters. Filters are used to keep harsh metals and chemicals out of your water, making drinking, cleaning, and cooking safer.
Consult with a Lapeer County Well Driller for More Information
Having a well of your own can help keep you and your family healthy. If you're ready to have your own water source and you are looking for a professional Lapeer County well driller, contact Ries Well Drilling, Inc. today. We are located in Macomb County and service Lapeer, Macomb, Oakland and St. Clair County.