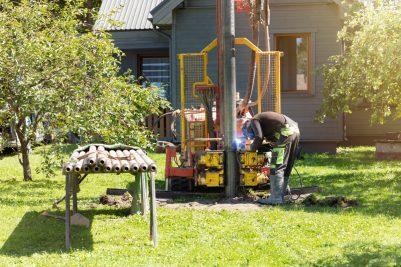 Homeowners in Ortonville, MI, are digging more water wells than before, and for a good reason. With a private water well, you're assured that your home will have enough water supply at any time without paying outrageous water bills. Having your water well also gives you peace of mind as you have control over the safety of your drinking water. In addition, you get to save on tax.
The water quality in Ortonville, MI, is not consistent, explaining why many homeowners opt to drill their water wells. Water from private wells contains no chemicals and is thus safe for consumption.
If you're planning to drill your water well in your Ortonville, MI home, there are a few things you need to keep in mind, both legal and financial. You don't want to embark on this journey without all the necessary information, as you can be on the wrong side of the law or fail to find a good location for drilling your well.
In this brief guide, we share two important things you need to keep in mind before venturing into drilling a water well in Ortonville, MI.
· Apply for a permit
The first thing you need to do before hiring professional well drillers is to acquire a permit from your local government office. You shouldn't hire well-drilling contractors before you get a go-ahead from the local government.
Also, request to speak with an individual who deals with such permits and ask all the relevant questions regarding the type of permit that suits you and what's needed. Ask the regulations you should observe to avoid getting into a legal battle with authorities. A valid question to ask is whether or not your property should have a water well.
· Find a professional well driller
After securing a permit, the next thing to do is find well-drilling contractors. Have them assess if your property is suitable for a water well and if there's sufficient water underground. You don't want to venture into the process of drilling a well that will end up drying at some point. In addition, the expert must assure you the water in your well will be safe for consumption. For more assurances, you can ask those with wells in your neighborhood if their wells are worth it and if their water is safe for consumption.
Wrapping It Up
Digging a water well will cost you a lot of money, and you don't want to gamble your money on a quack or unreliable contractor. That's why you need to carefully assess the experts in your area and find the right one for the job.
Also, you need to find all the needed permits from your local government to prevent getting into a legal battle with authority. In addition, get confirmation from experts and nearby homes with wells that you'll have enough safe water in your well.
For expert water well drilling in Ortonville, MI, don't hesitate to call us today.
Give Ries Well Drilling Inc a call to answer any questions you may have about fixing or maintaining your water well water. We can be reached at (586) 784-9516!
We provide Water Well Drilling Services in the following Michigan Counties: