Why Water Well Drilling is NOT a DIY Job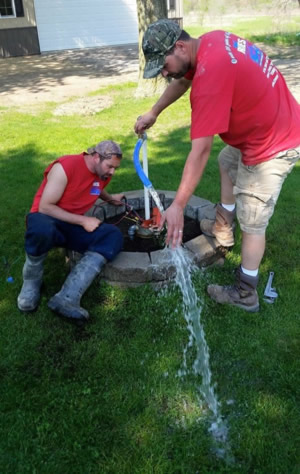 Have you been thinking about having a personal water well installed? That's good! Shifting your home from one that depends on a public utility company to having your own private water supply is a great decision. It will save you money, time, and can positively impact your household's lifestyle and health.
However, some homeowners and commercial property owners who are eager to own a water well believe they can handle drilling it themselves. That's not a good idea. There are many accidents that can happen if you try to make well drilling a "do-it-yourself" job.
Here are three reasons why you should hire an Addison Twp. well driller.
1. You'll Spend More Money Than You're Trying to Save
One of the main reasons Michigan residents make the switch from a public utility service to a personal water well system is to save money. You'll completely counter this benefit if you try to drill a water well on your own. Buying expensive equipment and risking your safety and the current state of your property won't lead to savings.
Professional well-drillers are trained to take care of these jobs. Unless you're in the business, you shouldn't be handling such large equipment.
Additional expenses can occur due to the damage you inflict on your property. Any damage that's done will be coming out of your pocket. Instead, save some money and hire an Addison Twp well drilling company to do it for you.
2. There's High Risk of Accidents for You and Your Property
There are several incidences that can happen if you try to make the installation of a personal water well a DIY job. If you aren't sure how to use the well drilling equipment you bought, you're not only prone to accidentally damaging your property and losing some money but you may also put yourself at risk.
Large, mechanical equipment for well drilling isn't something to be messed with. Just as driving a car takes practice and study, so does the use of well drilling machinery. Unless you have the experience, don't do it.
Drilling on your own may also damage your property. That will definitely lower the property value of your Michigan residence. Keep that in mind if you're someone who's looking to sell in the future.
3. You Aren't a Licensed Well-Driller
This is the major reason why no one should purchase well drilling equipment or attempt to do a task such as this on their own. If you are not licensed and trained by a professional, you have no reason to purchase this equipment.
Make the switch to a private water supply the right way by hiring a professional well drilling company and avoid potential liabilities, sky-high insurance bills, and costly property repair.
Ready to Hire an Addison Twp Well Driller?
Well drilling can be a dangerous task, but it comes with great benefits. Instead of tackling this project on your own, hire an Addison Twp well driller.
Contact Ries Well Drilling, Inc. today to make your personal water well an essential part of your home.
Contact Ries Well Drilling at: 586-784-9516